RootsMagic 7
RootsMagic 7 is genealogy software that helps you to make your family tree easy like researching, navigating, sharing, organizing your family history. Now RootsMagic 7 can run on macOS. There are two versions of RootsMagic software. First, the free version is known as RootsMagic Essentials. The other version is a paid version known as RootsMagic 7.
Premium Features of RootsMagic 7 Which are Not available in RootsMagic Essentials
RootsMagic 7 Premium Features Tools:
Interactive Problem List.
Mark problems and "not a problem".
Standardization and Geocoding of places.
Map people, places, etc.
Check the current notes with the help of Spell Checker.
Easy to spot people's names in highlighted groups by Color coding.
Shows the relationship between any two people by Relationship calculator.
Analyze places to look up. US, UK, Canadian, and Australian counties, states, etc. to view information and interactive maps.
DataClean helps to clean up names and places in your database.
Research Features:
Keep track of research goals, sources, and results with the help of the Research Manager.
Research suggestions from inside RootsMagic using GenSmarts integration.
Keep a track of research you still need to do for any person or family by "To-do" list.
Track your incoming and outgoing correspondence by Correspondence Log.
Search the web using search engines by Websearch feature.
Spectacular Wall Charts:
Ancestor, Descendant, Hourglass, Timeline Wall Charts.
Drag and drop to resize.
Background image or color can be added.
Up to 100 feet, wide charts can be printed out.
Print charts on regular size or print on a large format printer.
Export charts to graphic formats
Freeform text, photos, and shapes can be added to charts.
General Features:
Media files along with your data file can be backed up and restored.
Back up directly to CD, Dropbox, Google Drive, etc
Create your own toolbar.
Evaluate the file integrity, rebuild indexes, and compress the database to remove deleted records by database tools.
Editing:
Create defined fact types and add roles.
Share events let you assign people involved in an event.
Record DNA test.
Add private events and quash them to print or export.
Search Features:
Find text in any record in your file using the Find Everywhere feature.
Find people by married name or nickname by NameFind.
Replace and search notes, names, places, media items, etc.
Search people based on genetic lines.
Navigation Views:
You can get Descendant View from 2 to 7 generations
It warns you of errors and conflicts in your data by Problem Alerts.
CustomizablePeople List View
Websearch to search people online and get matches.
Timeline ViewEditable
RootsMagic 7 is a licensed version that is paid. So, when you get accustomed to the RootsMagic Essentials, you can buy the licensed one. The best features only get activated when you buy the software.
RootsMagic 7 License key
You can find your RootsMagic Product Key / License / Serial Number by clicking here.  Just enter your registered email address in the box and click on request. Since it's an automated process, you will shortly get an email about your RootsMagic 7 license key.
Similarities Between RootsMagic Essentials & 7th version
General Features:
Essentials and RM 7, both versions work on Windows 7, 8, and 10.
The software Run-on MacOS.
The software has a single-file format for its database.
It supports Unicode integration
You can easily Backup and restore your file.
Navigation:
Easy navigation
WebHints to search and match.
Pedigree and Family view of the tree.
User Friendly:
Managing files is easy.
Automatic linking of family members.
Checks for duplicates automatically.
Find out empty tabs – for parent/child.
Easy edit just by clicking on the person's name.
One person information on one window.
Organize Information:
Opens multiple instances of information.
Shows relationship as per the home person on the status bar.
An alternate name list helps to find out the person with his/her other name.
Editing:
Add unlimited information. Like People, Facts, Sources.
60 Predefined facts available
Tracks multiple relationships easily.
Gives the age of a person on each of his events in entire his life cycle.
Enter the history of the place and its geographical know-how.
Search Features:
Easy to find and edit any person's information on the Tree.
Searches by: Record number, Name, Dates, Places, Notes, etc.
Printing Options:
Easy to print your information from the printer connected to your pc.
Edit printout options on Essentials and RM 7.
Charts & Reports:
Pedigree chart, Box Chart Report
Family Group Sheet and Narrative Reports
Marriage, Place, Individual, Duplicate, Repository, Source, and Birthday List.
Multimedia:
Imbibe photos, audio, video for person, place, event, or source.
Include multimedia in your printouts.
Sources:
Add documentation to person, fact, or family.
Automatic source from Source Wizard.
Easy to use source list.
Add global source to each person.
What's New in RootsMagic 7?
 Web Hints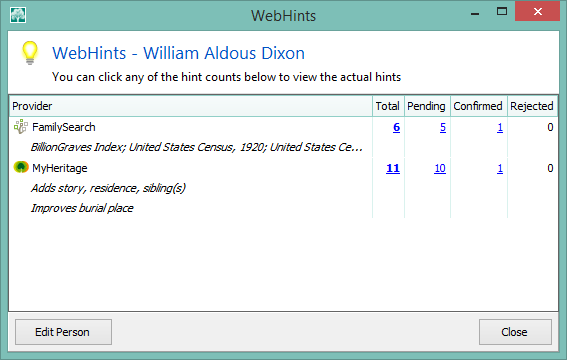 RootsMagic helps you search your genealogy records automatically. It helps you to connect to Family Search.org and MyHeritage to show hints for possible matches. The matches found are depicted through a Light Bulb icon next to the person's name on the 7th version. When you click on the Bulb icon. It opens a new page that has the records. You can check for the matches.
Name Clean/Place Clean:
Name clean feature is unique in the 7thversion. It helps to correct personal names in your tree. Let us says a person's name in the tree is JOHN SMITH and you want to correct it to John Smith or Smith, John. This feature lets you do it.
Place Clean as the name suggest, helps you to fix the name of the place on the tree. Like place name on the tree is North Sutton, New Hampshire, USA, and you want to change it to Saint Paul, Minnesota, USA.
Compare Data:
On a single page of your family tree, you can compare the two trees and its record. It helps you find out the difference easily, so as not to switch back and forth again! Also, you can share the data between the two trees with a single click.
Publish:
On myrootsmagic.com you can publish your family tree information. It helps you to show and display the tree to everyone you want to. Lively family and individual views are available. You can include your notes, media, and of course the sources for all the information. Secure your portal with a password so it is not available in the public domain.
Import List:
In this feature, you can easily import information from other RootsMagic files. Like Sources, Places, Media, Facts, Logs and so on so forth
Quick Groups:
You can find out if a person belongs to which group. For example, a group which shows all born in Florida, USA.  Also, you can quickly find out all person from SMITH's family. This unique feature provides only for you and lets you group as per the needed basis to help you with your research and serves as a great tool for any reference.
Drag & Drop:
Unlike the earlier edition of RootsMagic, with RM 7, you can easily, for example, drag and drop a person's photo on his media screen to add it quickly.
Besides these seven new features, you can also enjoy those features which were added in RootsMagic 6. Here are a few of them.
Problem Alerts:
A red triangle with an exclamation point in front of a person's name indicates that there is a possible mistake in that person's records. You can quickly locate and correct the data error.
Enhanced Timeline View:
It will show a full timeline of a person in a graphical manner. Like person's events, parents, spouse, siblings, and children. You can also edit the information in your timeline directly without having to go into the edit screen.
County Check Explorer:
Country check explorer helps you to show the interactive map of the historical county. Also gives access to the FamilySearch Wiki page for counties and states.
Web Tags:
You can web tag a link to any person on the tree, also attach a link to the source, citations, or research log. You can also print a list of links that you have added to the tree.
Improved Search/Select:
It's similar to an advanced search where you can search for a person on the tree with the number of spouses, children, parents, and siblings they have/ had. You will also look up people by their genetic lines (Mitochondrial & Y-STR).
RootsMagic 7 Serial Number And RootsMagic Registration key
If you have paid version and want to activate it, you would need a RootsMagic 7 Serial Number or a RootsMagic 7 Registration Key. Once you download the paid version, it would prompt you to enter the product key. If you want to know how to recover the lost RootsMagic 7 unlock key? then, read this post on our website deeply – Recover lost RootsMagic registration key.
RootsMagic 7 Download for Mac
Learn to download RootsMagic 7 for mac computers or call RootsMagic Software support Number. The procedure for downloading or installing RootsMagic 7 for an Apple computer is not at all a difficult task. However, to do so you definitely need proper guidance and accurate solutions.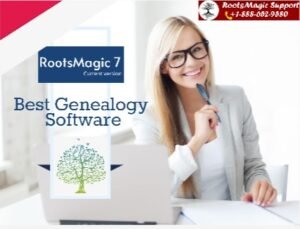 You can find the same only here in this blog, as the step provided here will surely help you get through the process within the least time possible also you can directly download this software from this link.
Other than that you can always get in touch with the professional experts of the RootsMagic team. They are available 24×7 round the clock.
Now following are the step provided to get started with the process. So you just need to read along as you are guided.
The steps for download RootsMagic for mac are given below – RootsMagic Customer Number
First of all, you are required to find the RootsMagic installer on RootsMagic.com.
Then, after doing so, you have to download it with the help of Safari.
And then, you are required to download it with Chrome if Safari is being supported on your system.
You have to then install the RootsMagic on your device.
After doing so, you will have to add the RootsMagic shortcut icon to your device.
Finally, at last, you are supposed to register your software, and then you should be good to go.
Thus, these were the steps for you to download the RootsMagic on your Apple computer. And we hope that the above steps do help you get through successfully as the steps given are absolutely reliable to help you with the procedure.
But if in case you come across any sort of issues and glitches that stop you from getting through then you must right away get connected with the most well-trained technicians provided only at RootsMagic Customer Number. The techs are capable to give you the topmost solutions and you will not be disappointed with the result.
So you can go ahead and share your concerns with the team as they are always ready and waiting to assist you whenever you encounter issues with your RootsMagic software.
RootsMagic 7 Reviews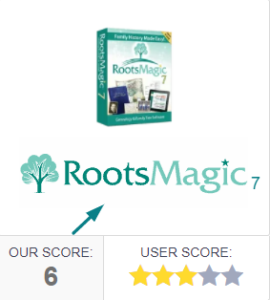 It is undoubtedly the best software for genealogy. If you go by the RootsMagic 7 Reviews, all users feel good about using it. It offers features that other software is short of.
If you click here, it will help you to reach the exact site where you can check quotes and reviews regarding RM 7 Software, which will help you to make up your mind to go for it. From customers to genealogical societies, and from genealogy newsletters to journals, RM 7 has received a plethora of positive feedback, making it unrivaled in the genealogy sector.
People also Ask
What is the newest version of RootsMagic?
RootsMagic 7 is the most recent version of the award-winning genealogical software that makes it simple to investigate, organize, and share your family history. RootsMagic is the best genealogy software and the perfect tool for you.
Conclusion: In this article, we discussed the RootsMagic Software and their free [ RootsMagic Essentials ] and paid [RootsMagic 7 ] versions.