Details about RootsMagic 8
Application: RootsMagic 8
Current Version: 8.1.2.0
Mobile Apps: RootsMagic App is available for iOS or Android
Supported OS: macOS Sierra (10.12) through macOS Monterey (12.0); Windows 7 SP1 through Windows 11
Price: $39.95 for a new license and $29.95 for upgrade users (RootsMagic Essentials free)
Biggest draws: Ease of use, data entry, reports, publishing your tree online
Publisher: RootsMagic, Inc.
Website: http://rootsmagic.com
Support Website: https://rootsmagicsupport.com
Import Data From 1-7 File into RootsMagic 8: Click here
Is RootsMagic 8 Available?
RootsMagic 8 is available to download for a new user. Existing users can also use it by using RootsMagic 7 or an earlier edition. RootsMagic8 is the latest version of genealogy software that helps you research, organize, and share your family history with ease. In this blog post, you will learn everything about RootsMagic 8 like features, download process, and update process from RootsMagic 7 to RM8, etc.
What's New in RootsMagic 8 Version
RootsMagic 8 is a significant improvement over previous versions of the software. It supports new operating systems, has easier navigation, and has more powerful editing tools. You can now see all of the information entered for an ancestor at once, and search functions are faster and more intuitive. Citations can also be reused for a variety of people or events.
To-do lists, research logs, and correspondence lists are also new features, as is the ability to create fan charts and maps. Your work can be saved in a variety of formats, including PDF, DOCX, XLSX, and SVG.
RootsMagic 8 Release Date?
RootsMagic 8 was released on 1st November 2021 and is the biggest release in the last 30 years. It has a new interface that helps users switch between information simultaneously.
You can edit multiple persons and save the reports directly to the Microsoft Word format. New fan charts, enhanced search capabilities, and an upgraded task system make it worth installing on your device.
RootsMagic 8 Download
You can download RM 8 from the website click here. The system requirement for downloading RootsMagic 8 for Windows and Mac is listed here:-
For Windows PC: Windows 7 SP1, 8, 10, or 11
For Mac: macOS Sierra (10.12), High Sierra (10.13), Mojave (10.14), Catalina (10.15), Big Sur (11), or Monterey (12)
RootsMagic 8 Free Download
RootsMagic offers free versions to get started. You can upgrade to the full version if you like it without losing the work you have completed. You can also download the free version by clicking on the link RootsMagic Essentials 8. RM essentials offer many core features, which are found in RM 8.
Have A Look At How To Get RM 8
It is not available for purchasing
Only those who have RootsMagic 7 can get it.
They would get a new registration key for upgrading.
How Do I Upgrade To RootsMagic 8? (Discount Offer)
Upgrading to RootsMagic 8 is an easy task. You just have to navigate the purchase page on the RootsMagic official website and then click "upgrade" under the "choose a license" part.
If you already have RM 7 or an earlier edition, you can buy an upgrade to RootsMagic 8 by paying a discounted price of 10%. The regular price is $39.95, but you can upgrade to RM 8 for $29.95.
Once you buy the RootsMagic (full version or upgrade) from the RM official website, you will receive an email regarding your registration key to access RootsMagic 8.
If you still have issues with your software you can contact our support team at +1-888-652-9580 for the same.
Note: It is very important to note that RootsMagic 7 file will not be supported with RootsMagic 8. So you just have to create a "new" file and then import the desired RootsMagic 1 to 7 file into the file.
RootsMagic 8 Price Details
RootsMagic is now available for download and you can get in at only $39.95. Additionally, family origin and existing users may upgrade for only $29.95.
RootsMagic 8 Demo
We all know that RM 8 is officially released, So we are excited to tell you what's new in the latest version and its features. So for that concern only, we are here with this blog. We will guide you through some of the Demonstration Of the RootsMagic 8 version.
Introduction:-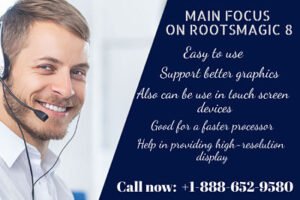 RootsMagic 8 is:
Full native
Provides 64-bit Mac OS app
It runs great on Mac OS Catalina
Read also: RootsMagic 7 is Now Available on macOS 11 (Big Sur)
The Main Focus of RootsMagic Software
The software's primary focus is to free people from the problems they face while using Roots Magic. Therefore, and for that purpose only, RM 8 is being designed to involve rethinking, redesigning, and rebuilding the interface to fix the common issues.
Advantages and Features of RootsMagic 8
Some of The Advantages of This Software Are As Follows:
Easy to use
Supports better graphics
It also can be used on touchscreen devices
Suitable for a faster processor
Helps in providing high-resolution display
You can explore people, families, trees
Easy to find anything
Can work with family search
Can add or edit data
Easy to do mapping
documentation and source can be done easily
Also, you can do planning for the research
These are some of the things that one can do with Roots Magic. The only wait is to get it released as soon as possible.
RootsMagic 8 Preview
You can get the RootsMagic 8 under Community Preview by clicking here.
Community Preview: Community Preview is a platform to participate in evaluating the RM 8, where you will receive a transitory RootsMagic 8 link to download the software with the RootsMagic 8 Registration Key, which will unlock all the features of RM 8 till the time it is finally launched officially. Moreover, it will be free to participate in Community Preview, get feedback, and test RM8.
Community Preview Technical Support:
Until the RM 8 is not officially released, the RM software support is not available since the technicians are also getting acquainted with the new RM 8 software and are not trained enough to offer any help. However, you can join the RM particular Facebook group to discuss the latest software with other users.
If you have any issues regarding the same, you can always contact the experts at RootsMagic Customer Support Number. You will be assisted immediately by the technicians who are ever ready to help resolve any related RootsMagic queries. The services here are open 24×7, so you can call up any time that is convenient for you.
RootsMagic 8 Features Are Not Available In The Community Preview:
Some features were available in previous versions but not in RM 8 under Community Preview. Those features are listed below, requiring more testing and development before it is open to all users.
Publisher
Custom Reports
RTF export
CountyCheck
RootsMagic To-Go
Shareable Drive
Publisher
Spell-check
RootsMagic 8 For Mac And Forum
The good thing about RM 8 system compatibility is that it is available for the latest Windows and macOS.
There is a single feedback form that helps to share the errors and bugs or if you have any suggestions. If you click on the envelope icon in the upper-right corner of the RM8 screen, you can get access to the feedback from within the software.
Old RootsMagic vs. RootsMagic 8 And Data Security
You can keep the old RootsMagic version on your computer. However, installing the 8th version under community preview may ask to remove old RM software from your system. Click on "No" when the prompt appears on the screen unless you uninstall the previous version of RootsMagic.
File Format: The previous RM version format was (.rmgc). However, the RM 8 format is (.rm8). Therefore, it is possible to convert the old format to the new format. You can also use GEDCOM for the same purpose without affecting the original file.
Let's Talk About RootsMagic App vs. Family Tree Maker
First, the color-coding options in RM and family tree maker. FTM has eight color options, while RootsMagic has fourteen. For example, I supposed in this place, In FTM, I used blue for my male line and pink for my female line (corny, but it's easy to see at a glance). Also, sappy (I used green for the Irish, after all).
Does The Problem occur In RM Software And Family Tree Maker?
I had established eight primary regions of the world for my family tree, but FTM didn't leave me with enough colors to choose from. So I did it with RM, and I still have four more if I find another big area or something else to color code.
The Second Small Detail: The relationship reports show your relationship to an ancestor by displaying all of the ancestors on that line. Both software has this great function, which I use and recommend to those who are interested in family history.
And Now Let's Talk Some Few Lines About RootsMagic 7
The RootsMagic 7 was launched in the year 2014. There were updates, and the 7.5 version added Ancestry connect and Tree Share features. Still, it needed to upgrade itself to compete with the other genealogy software. 
RootsMagic 7 was released in 2014, but there have been very few upgrades to this version. So now you can upgrade your RM 7 to RM 8. And you will get the updates of the latest version of RM 8 from RootsMagic Software Support.
Conclusion
Hope you like this blog. In this blog, we discuss the RootsMagic 8 Release Date, their features, price details, the accessible version of RM8,  and how to update to RM 8, etc. If you are facing any trouble regarding your program, please contact our RootsMagic Experts. They will definitely assist you anytime at a reasonable price.
FAQs
Is RootsMagic 8 free?
You can use RootsMagic Essentials which is absolutely free version of RootsMagic software. By using this version, you can easily sync, track, and save your Family Tree.
Does RootsMagic 8 sync with ancestry?
Yes, RootsMagic genealogy software can synchronize with Ancestry to transfer people, notes, events, source citations, and photos between the trees.
How do I upload pictures to my RootsMagic 8?
Highlight the fact to which you want to add a media item, and then click the media items button in the form's edit panel on the right side. RootsMagic will display a list of all media items associated with that fact. Click the "Add media" button to add a new media item.
What is the latest version of RootsMagic?
RootsMagic 8 is the latest version of RootsMagic Software. While RootsMagic 3 to RootsMagic 7 is still available for download.
Is RootsMagic free?
RootsMagic Essentials is the free version of RootsMagic software. RootsMagic provides both free and paid versions.
Is RootsMagic has a subscription service?
RootsMagic 8 or RootsMagic is not a subscription service. Just purchase the program which is a one-time fee of $39.95
Does RootsMagic have a mobile app?
RootsMagic has a mobile app that is the handiest way to take your family file wherever you need it. Well, on the mobile app, you cannot edit your respective free, but with the help it, it will help you access all the names, dates, places, and sources of the family tree.
Does RootsMagic work on an iPad?
RootsMagic works well on iPad, iPhone, and iPad. Also, it helps in carrying all your genealogy on your device. The best thing about using RootsMagic on iPad is that it is easy, simple, and free to use.
How do I transfer RootsMagic to my iPad?
To transfer your RootsMagic to iPad, you need to use drop box or iTunes. Also, it will help you in keeping multiple RootsMagic files on your respective device. Also, the app will access them easily without having any internet connection.
Does RootsMagic Work on Android mobile?
Yes, RootsMagic helps you in carrying the genealogy on your android mobile. But on an android device, you may not be able to edit, but it will directly work with your respective RootsMagic file.
Will Personal Historian and Family Atlas work with RootsMagic 8

The answer is YES! If you choose to import GEDCOM files in both programmes. To create the file required to import into Personal Historian and Family Atlas, go to File, Export Data, GEDCOM inside of RootsMagic 8.